Please Freeze
Track

Soundtrack Information

Performed By

Track Information

Length

4:48

Album

Toradora Best Album - HAPPYEND, Toradora Portable! ED Single

Please Freeze is a song from Toradora! Portable.

Video
If the music player above does not work for you, feel free to listen to the OST here!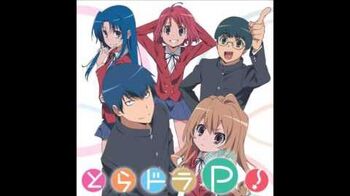 Lyrics
オンナの子って、LOVE嗅覚敏感なんだ
ダイスキな人に対しては…と・く・に
まだ決定的な証拠はないんだ
でもなんか勘が働いちゃうんだよね
"好きな人いるのかな?"
女友達に 聴くだけで
冷静さ軽く失ってゆく…
抑えきれない 恋心
口に出来ない この気持ち
近づくほどに心の距離は遠くなる
掴みきれないキミの本心
数えきれないほど想う
ねぇ? 私のコトどう思っていますか?
教えてPlease やっぱりFreeze
言わないで…
オトコの子って、人の気持考えず
思いつくまま行動するのね…マ・ジ・で
突然鳴り響くキミからの着信
笑顔こぼれながら慌てふためく
"いまどこでナニしてる?"
女友達の 声がした
楽しげにキミの後ろの方で…
抑えられない 逢いたいよ
さらけだせない この言葉
こんなことでさえ自己嫌悪に落ちてゆく
離れられないキミからは
叶えられない いまはまだ
いったいどうしたら"素直"ってなれるの?
"彼にもね…聞かれたよ…"
女友達の 情報に
喜びを隠し強がっちゃった
抑えきれない 恋心
口に出来ない この気持ち
ほんのちょっとは心の距離が近づいた?
抱えきれない不安から
笑えられない 夜だけど
ねぇ? いまは焦らなくたっていいよね?
教えてPlease ちょっぴりFreeze
どうしよう?
やっぱりFreeze …しちゃった。
Onna no ko tte, LOVE kyuukaku binkan nanda
Daisuki na hito ni taishite wa… to.ku.ni
Mada ketteiteki na shouko wa nai nda
Demo nanka kan ga hataraichau nda yo ne
"Suki na hito iru no kana?"
Tomodachi ni kiku dake de
Reiseisa karuku ushinatte yuku…
Osaekirenai koigokoro
Kuchi ni dekinai kono kimochi
Chikadzuku hodo ni kokoro no kyori wa tooku naru
Tsukamikirenai kimi no koto
Kazoekirenai hodo omou
Nee? watashi no koto dou omotte imasu ka?
Oshiete Please yappari Freeze
Iwanai de…
Otoko no ko tte, hito no koto kangaezu
Omoitsuku mama koudou suru no ne… ma.ji.de
Totsuzen narihibiku kimi kara no chakushin
Egao koborenagara awatefutameku
"Ima doko de nani shiteru?"
Tomodachi no koe ga shita
Tanoshige ni kimi no ushiro no hou de…
Osaerarenai aitai yo
Sarakegasenai kono kotoba
Konna koto de sae jikoken'o ni ochite yuku
Hanarerarenai kimi kara wa
Kanaerarenai ima wa mada
Ittai dou shitara "sunao" tte nareru no?
"Kare ni mo ne… kikareta yo…"
Tomodachi no jouhou ni
Yorokobi wo kakushi tsuyogacchatta
Osaekirenai koigokoro
Kuchi ni dekinai kono kimochi
Hon no chotto wa kokoro no kyori ga chikadzuita?
Kakaekirenai fuan kara
Waraerarenai yoru da kedo
Nee? ima wa aseranaku tatte ii yo ne?
Oshiete Please choppiri Freeze
Dou shiyou?
Yappari Freeze …shichatta.
Girls have noses sensitive to the smell of love -
With the people they love, that's especially true.
I don't have decisive, concrete proof for it yet,
But it's like my intuition is hard at work.
"Do you have someone you like?"
By just hearing my girlfriends ask that,
I lightly lose my cool…
It's too hard to hold in my feelings of love.
I can't bring these feelings to my mouth.
The closer we get, the more the distance between our hearts grows.
Your true feelings too hard to grasp.
My thoughts are too numerous to count.
Hey, just how do you feel about me?
Tell me, please – actually, freeze.
Don't say it…
Boys will act without considering people's feelings
And move as soon as thoughts pop into their heads… seriously!
Suddenly, my phone rings with a signal from you.
As a smile overflows out of me, I get all flustered.
"Where are you and what are you doing now?"
I hear the voice of my girlfriend
Cheerfully talking in the background…
I can't hold it in – I want to meet you.
I can't bring these words out into the open.
That's all that it takes for me to fall into self-hatred.
Being inseparable from you is a wish
That can't be granted yet at this point in time.
What in the world can I do to become "honest"?
"You know, he… asked me…"
Hearing the news from my girlfriend,
I hid my joy and pretended to be strong.
It's too hard to hold in my feelings of love.
I can't bring these feelings to my mouth.
Has the distance between our hearts closened just a little bit?
At night, I can't bring myself to laugh
At the anxiety that's too much to bear,
But hey, I'm in no hurry, right?
Tell me, please – but just for a bit, freeze.
What should I do?
So you froze up… after all.
Ad blocker interference detected!
Wikia is a free-to-use site that makes money from advertising. We have a modified experience for viewers using ad blockers

Wikia is not accessible if you've made further modifications. Remove the custom ad blocker rule(s) and the page will load as expected.