Home
Talk

0
59pages on
this wiki
Welcome to Tora Dora Wiki!
The wiki is about the hit anime/manga series Tora Dora that anyone can edit!
About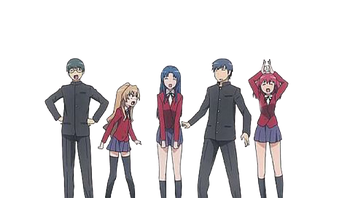 Toradora's story revolves with Ryuuji Takasu who is frustrated at trying to look his best as he enters his 2nd year of high school. Despite his gentle personality, his eyes make him look like an intimidating delinquent, so he feels utterly hopeless about his chances of getting a girlfriend anytime soon, and does not have many close friends either. After being greeted by his hungover mother in the morning, Ryūji goes to school and is happy to find that he gets to be in the same class with his best friend Yūsaku Kitamura and a girl he has a crush on, Minori Kushieda. However, it is then that he unexpectedly knocks into "the school's most dangerous animal of the highest risk level" the Palmtop Tiger, Taiga Aisaka who just happens to also be in his class, and is a good friend of Minori. Ryūji and Taiga start getting along more as things progress with the relationships between the characters and eventually confess their true feelings of love towards each other.
Characters Portal
Featured Article
Featured Article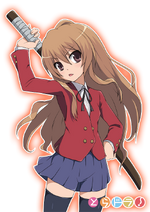 Taiga Aisaka, is the Toradora's main female protagonist and is known as the "Palmtop Tiger". Taiga is a also in Ryūji's class, as well as the series' main female protagonist. She has a well-regulated and beautiful appearance though is unable to stomach company from others. Due to her often snapping at others in brutal ways and her short stature, she is given the nickname "Palmtop Tiger" (手乗りタイガー Te Nori Taigā). Her under-developed body and the added nickname has given her a complex which in turn serves to give her a negative attitude and facial expression. (Read more)
---
Featured Image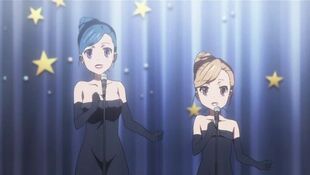 Featured Quote
"Since ancient times, the dragon has been the only beast to equal the tiger. Even if you're not by my side right now, I will leap through space and time and always be by your side. These feelings will never change."

—
Ryuuji Takasu
to
Taiga Aisaka
Poll
Who is your favourite character?
Did you know?
Toradora! is actually a Light Novel Series that have been adapted into an anime series.
Toradora! was written by Yuyuko Takemiya.
Taiga Aisaka's Japanese voice actor is Rie Kugimiya, who voiced a lot of tsundere anime characters such as the character "Louise" from The Familiar of Zero.
Minori Kushieda's Japanese voice actor is a singer.
Many says that Taiga resembles Louise from "The Familiar of Zero" because of their looks and their personality. 
References