Welcome to Toradora! Wiki!
We have 8,436 Edits to 284 Articles and 1,639 Pictures since July 30, 2013.
This wiki contains plot details and spoilers. Please Read at your own risk.
About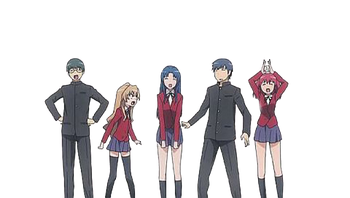 Toradora! revolves around
Ryuuji Takasu
, despite his gentle personality, his eyes make him look like an intimidating delinquent. Class rearrangements on his second high school year put him together with his best friend,
Yusaku Kitamura
, and his hidden crush,
Minori Kushieda
. Along with these two comes Minori's best friend,
Taiga Aisaka
who is also known as the school's "Palmtop Tiger". Taiga's delicate appearance contrasts with her brutal personality. Ryuuji finds out that Taiga has a secret crush on Kitamura and Taiga agrees to help Ryuuji with his love interest as long as he helps her get closer to hers.
Characters
Featured Article
Taiga Aisaka (逢坂 大河 Aisaka Taiga) is the main female protagonist of the Toradora! series. She has a well-regulated and beautiful appearance with honey blonde hair though is unable to stomach company from others. Due to her often snapping at others in brutal ways and her short stature, she is given the nickname "Palmtop Tiger". Her under-developed body and the added nickname has given her a complex which in turn serves to give her a negative attitude and facial expression.

Despite coming from a well-to-do family, her life with them is very difficult because of various problems. She had lived with her father and stepmother and constantly fought with her parents, but she moved out and since then has taken to living on her own.
Read more about this article...
Vote for next featured article...
Affiliates
If you want to affiliate with the Toradora Wiki, please contact an admin.









Music Player
Click the "Pause" Button to turn off the music.
0pxv/TqW-H1Rys2o1
Featured Image
Featured Quote
"In reality.. We only appreciate things only after we lose them.."

—
Taiga Aisaka
Poll
Who are your favorite pairing?
Did you know?
Toradora! is actually a Light Novel Series that have been adapted into an anime series.
Toradora! was written by Yuyuko Takemiya.
Taiga Aisaka's Japanese voice actor is Rie Kugimiya, who voiced a lot of tsundere anime characters such as the character "Louise" from The Familiar of Zero.
Minori Kushieda's Japanese voice actor is a singer.
Many says that Taiga resembles Louise from "The Familiar of Zero" because of their looks and their personality. 
Featured Video
Helping Out!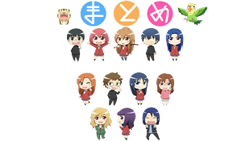 References